Advisory Committee

on Gulf War Veterans

Leishmaniasis

(Gulf War / OIF)

Gulf War Registry (OIF)

Gulf War Council of 2000

DSBR news archives

The 1994 Riegle Report

BVA Hearing

Getting your CRUR

The CCEP Program

The VA Research

Advisory Committee

on Gulf War Illnesses

The Army

Declassification

Project

Chemical Incidents

CENTCOM at NARA

IOM report Budget

OSAGWI Budget

Protocol

Presidential Advisory

Committee ( PAC )

Maxwell AFB Logs

Gulf War Records

The Air Force IRIS logs

Medical Information

Gulf War Veteran

Websites

Organization

Desert Storm Battle

Registry ( Survey )

The Anthrax vaccine

and VAERS report

The ISG vaccine

Iraqi Assets Claim

( How to file )

Miscellaneous

Gulflink 2007








Updated: July 22nd, 2019

Come join our Organization as we face down the agency that lies about

Gulf War issues. Deployment Health Support Directorate

1995 - 20,000,000 Gulf War military records declassified
1996 - 6,000,000 files given to OSAGWI to put on website

1996 - 1,700,000 files are medically relevant
1997 - 42,943 put up on gulflink.osd.mil website

At a cost of $150,000,000 less than .007% of the Gulf War Military

records have been declassified for public release. 16 years later

99.993% is classified , and the Pentagon has vowed to reclassify

these records. This include Confidential Records that should have

been released at the 15 year mark.

On February 14th 1999 I sent OSAGWI a FOIA asking for the bulk

of its records names be declassified, and sent to me. I received a

partial reply from General Vesser in a box with 2,877 pages, and

two CD's. On the CD was the Structured database file and other part

was a unstructured file. Again, only of the 42,943 files on the

public server. In the Nov 5th1999 response letter from OSAGWI to

me they explained they were processing the classified portion of the

log sheets for me. That was the last I ever heard from them on paper

concerning this FOIA. It remains mostly unanswered to this day

on the other 6,000,00 files.
OSAGWI database file of 42,943 files

The Pentagon hides behind Executive Order 13292 so that the bulk

of what happened in the Gulf remains hidden from the public. Except

this is criminal intent to withhold information of neglect, misconduct,

mishandling, and much worse during the Gulf War. The very same

people who say nothing happened are the ones with full knowledge

of those records, and vow to conceal them at all cost. The same people

who lead us back to Iraq again under false terms, and created yet another

disaster to live down.

There should be FULL public disclosure, and we have the right to know

what really happened in Iraq from 1990 to present.
How to complain to Veteran Affairs about your health care
---



July 22nd, 2019

No joy in all scenarios, VA waiting us all out,
"Hurry up and die" pretty apparent

Despite efforts far and wide, VA is blowing smoke telling us they
welcome input while censoring dissenting opinions. There is a lot
being claimed but the cold reality is - push comes to shove the
Secretary of VA wont change anything obvious that allows more
than a handful of people near him.

The new Gulf War Research Advisory Committee is either a joke
by design or on purpose. What it is not a soap box for change.
They feild comments, and anything found in the field that isnt
pro-VA medical research is ignored. They just want cheap easy
dirty remedies that give the illusion of progress while ignoring
all other comments. Implementation? Not since 2002.

What is VA most happy about on this, not having to do squat
about anything but GWI research. Medical care and benefits
have been squashed under foot. No need to change anything that
has been stagnant these last 20+ years. Let 3.317 go on filtering
out the remaining vets so that 92% go on failing to get benefits.

Congress has gone silent, lame duck. Even better for VA, as
there is ZERO accountability. Service groups are not any better.
They ran off the grass roots to limit access to the table and
then VA cut them off as well. The big 5 have no teeth any more
and roll over each year. Thats what you get from monopolies.

Ive tried every avenue to reach the Secretary of VA and get GWI
healthcare and benefits back on the table. Its clear to me that he,
and all under him dont want that. Meaning the RAC which is now
loaded with VA ringers. The worst being Dr. Somatic - I mean Dr. Hunt
who VA keeps on board to drive people away. They can discard him
at any time should he alienate - and then find another to clip in
to do the same. They just help the Sec give the illusion of progress
while spinning in one spot. Spin doctors.

Why am I being so hostile? Because Im not wanted in DC and these
people spend there time blocking me. Yet, I find so far the only thing
that seems to be going on is the Gulf War memorial. Which wont
change healthcare or benefits, just a empty shrine to the past and
those seeking self aggrandizing. $40 million could have gone to a
clinic with a huge park / garden out back with a memorial in there.
Why not serve the living, and those of us living substandard lives
for our service to this country. A independent clinic could have done
far greater good. I for one oppose the memorial as its a rub to me
in many ways. Just like all those flag wavers at memorial day, that
get all excited in parades - then ignore the vets the rest of the year.

Its not like Im asking for the impossible, or even impractical. But, I cant
even get substandard care here by Waco and Im very tired of my quality
of life in 2019. Illegal immigrants have more rights than me and get better
healthcare than I do. Send them to the Waco VAMC and see how many
want to stay in America.

Now, the people that went to OEF and OIF find themselves a minority
these days. Little by little they are getting the stiff arm as do GWI
vets. Yet, they have specialty clinics and managers that Gulf War
vets dont have - and we cant access. I feel bad for them in that they
left Iraq and Afghanistan as bad as when they deployed. Its a sour
taste in your mouth to serve in those regions and watch how bad
it is now thanks to our pull backs. Are these regions better after us?
I read enough to know these areas are still super backwards even
on human rights. So much hatred.

What is hardest for me is wanting to help, make a difference, and
be surrounded by so many people who dont. I want to be back on a
federal committee and fix the broken parts of VA. I never got the chance
back in 2008 to do the job I wanted to. The person that I dissented
on my committees final report had risen in the ranks of VA to black
ball everyone that gets close. I was right to oppose, and Im the only
person back then that had the foresight of what the future would be
with him where he is. A "never do well" that was meant to spread
harm with his "somatic" agenda and keep things stagnant. Another
legacy government personnel who decimates the ranks to protect there
job and there bigotry which others can use to there advantage.

The lies, the cover up, the war profiteers that got away with it. The
Gulf War has become a $2 trillion dollar black hole that Americans
have no guts to fix. Those that served are not treated as welcomed
members of society, but more like lepers to be shamed into the
shadows. Even my own family treats my military service like it was
something to be forgotten - like a prison sentence. Im a combat veteran
and people dont want to know about it. Even say so.

Im not ashamed of my service, far from it. But, I deeply resent the
price I paid for this country that my service has no value and that
Im some kind of 3rd class citizen with no rights. Legal or other wise.
To be brushed aside every day to make way for all the thugs and
scumbags in a rush to destroy this country. The people who spit
on it daily and act like no one else matters. The short sighted who
think that short cuts are the answer to all.

Dont shove inequality down my throat and ask me to thank you
for it. Yet, every year I end up talking to more and more "never
do wells" that have no answers on the hill. People who relish snubbing
me and yet dont get the irony of there methods. To hinder progress.

Im a idea man, and all I want is the ability to pitch them so they
end up somewhere useful. Not like Im asking for the rise of the
3rd Reich or anything like that. Im asking to repurpose things in
VA that can serve my fellow vets and myself better. Then again,
what contempt Im showing to suggest such a idea with the wonderful
people in place doing such a great job - NOT!!!!!

You suck VA, and your executive staff are way too proud of themselves
for the kind of jobs they are doing. The customer is always right, and
youve done away with the customer altogether.


October 3rd, 2018

State of Veteran Affairs town hall meeting on
September 27th, and posing the question to
the Secretary of VA Wilkie

What a frustrating event this was. Right off the bat, Chrome and
Firefox would pull up nothing. Said no media available. Only after
I went back to Internet Explorer did the windows propagate.

Sure enough, below the Secretary was a question box. So I did
the logical thing and posted my question about reinstating the
GWI healthcare and benefits subcommittee. But, I also realized
VA would pretend it did not get my question. So I did a screeenshot
of the window, saved it, then broadcast it on the mail list as well as
the House Veteran Affairs subcommittee.

After a bit the moderator said 1,284 questions had come in by
then so I knew my question was buried. Decided to be more obvious
in a 2nd question so that the first was answered. Saved that screenshot
as well. Not going to let this go now its on the Sec of VA's desk.

October 2nd, I got a email from VA stating they got my question
and I might get a answer back. OK, must be automated reply to
say maybe because my question isnt a vague self serving one.
Mine covers a major failure of VA over 10 years, and the need to
provide better ways of dealing with GWI healthcare and benefits
issues. As far as Im concerned, the response email demands a
official response to a very legitimate issue for not just 697,000 of
the original GWI vets - but the 2.3 million effected from that region
over time. Where do they go when VA does not provide them a public
venue to address there needs and concerns.

This is now on the desk of the Sec of VA, and no longer in the hands
of others keeping it away from there. I have multiple methods to
prove this happened. Which ever way VA goes with this, Im going
forward to hold them to this. As this is a rational sane idea, and my
committee was done by VA executive authority before - Wilkie can
do the same easily. Only, this time I wont let VA do the same dirty
tricks it did to sabotage the last committee.

The question now is how long will VA take to admit they saw this, and
answer me. As time goes by, I only up the ante on this as Im not
letting this go.10 years have passed since my committee disbanded
and VA wrote us off. Well, they didnt do a better job and things got worse.
Im still here, and I know VA cant be trusted to do right by this so far.
That means literally up to 2 weeks ago.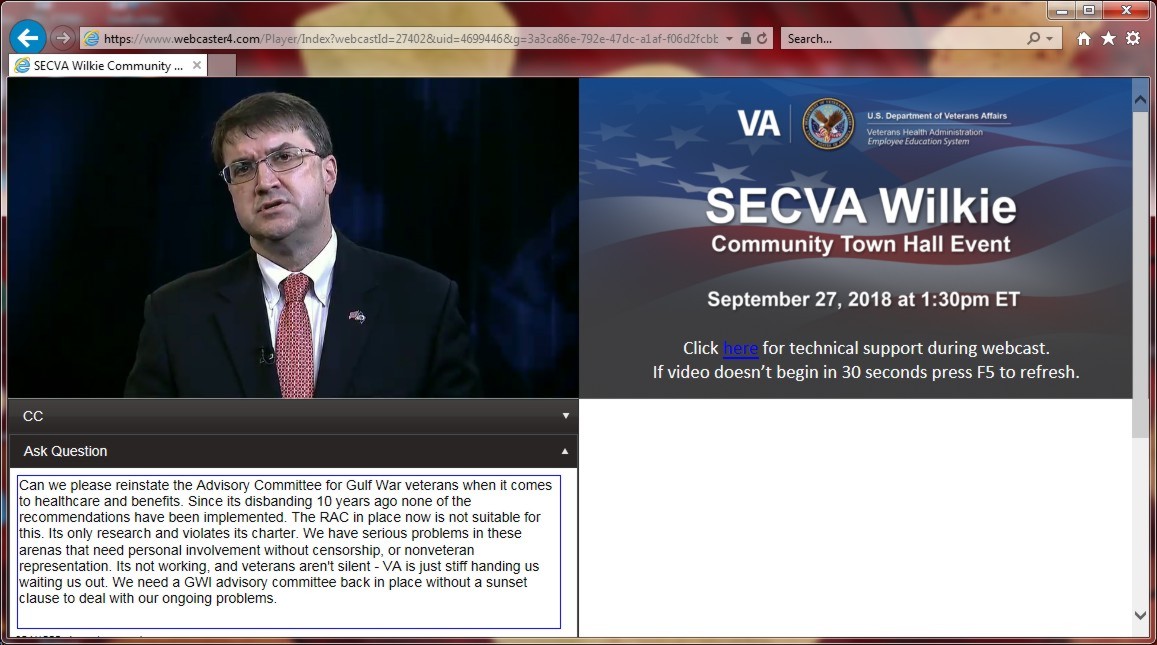 September 23rd, 2018

RAC meeting September 18th, with Healthcare benefits
discussion with VA executive staff

This meeting was yet another tasteless disaster that stuns me in
that the folks there think they are helping. Yet, nearly a year has gone
by and things remain status quo in the worst ways possible. Other
than the Chairman and 6 members being removed silently.
Notice what I did here. Repeat what happened amost a year ago to show
that nothing changed to include recommendations made last November.

Dr. Clancy was all talk and no substance. As were the others then and
now. I promptly hung up when I heard who was sitting on this panel this
year. It wasnt there to help me or anyone. It didnt last time.

See, they want thinks static. Certainly nothing in the healthcare and benefits
arena to give us a voice. Other than RAC members violating there charter
to play both sides. The ring leader is Victor Kalasinski putting on a false
front, all the while supporting his deployment health buddies at DOD. Same
thing for Dr. Hunt, the NIH, WRIISC, and others there subverting the vets
themselves - telling them DOD is not helping things. But, hey - thats what
VA wants here in all this. Stagnation and the 1995 agenda firmly in place.

Proof in itself that PL 105-368 has been subverted and poisoned from its
intended prupose. So its stays stagnant another 20 years, as will the
appalling CFR 3.317 Gulf war claim law that does not work. Oh yeah,
lets train the C&P doctors and reps better to use it - rather than strike
the very title and language that makes it dysfunctional.

How does VA do this? By taking advantage of the totally defunct NGWRC
as a supposed representative - when in fact they run everyone else off
trying to maintain a monopoly that doesnt work. Something VA and DOD
have understood for years, which they even catered too. Works great for
VA given how easy it is to manipulate them. If you want to stay on the RAC,
play nice with us and agree with us on deployment health issues. Theyve
seen how VA runs off RAC members and anyone else that argues with
them.

How can I say this? The fact that nearly a year has passed without any
publications from the RAC much less comments about dealing with healthcare
and benefits issues in public forum. Like this rigged no name meeting at
the end of the RAC that has no public records or teeth. This is merely a
public witch hunt to find the last dissenting vets and silence them like last
year. To black ball others like me, and keep us from VA so they can keep
on going with this sham that abuses the very nature of PL 105-368.

How is it these shameless DOD deployment health folks can keep grinding
there axe in public, and keep people like Dr. Stephen Hunt in play who
push the worst kinds of agendas. All these legacy government employees
with the worst ideas firmly in charge.

If Im a crack pot, then how did I get a federal GW committee for healthcare
and benefits in 2008? Does VA allow such things easily? Hell no. Since
then VA buried it and wants it dead. never to rise up, and point out the obvious
flaws it wants to keep in place. Those recommendations it ignored for 10 years
now. With the help of the RAC and the NGWRC.

I dont owe VA any more explanations or commentary about this. The whole
thing is blatant and condescending on there part. Wait us out, and hope that
we die before others catch on how ugly this got. How cruel, and dark.
Its what they are doing with me personally, and this last year has been pure
hell with the Waco VAMC with bizarre blatant behavior hoping I die soon.



November 6th, 2017

RAC meeting October 30th, with Healthcare benefits
discussion with VA executive staff

Unlike other RAC meetings of the past, the attention has shifted
to physcial issues like genotyping and GI biome. So the meeting
wasnt filled with innuendo and somatic discussions.

The part that had the most merit to me was the afternoon 3:30pm
discussion with VA executive staff over GWI healthcare and benefits
issues. It wasnt formal, and not listed in the agenda. But, it was because
this isnt research and the meeting is about research.

I commented on what I could during the discussion, and waited for
Dr. Carolyn Clancy to show up. When she did, I asked for her by
name and addressed my question to her. Given that my former
advisory committee pointed out the 75% refusal rate of 3.317 some
8 years ago, and now its 92% - wouldnt reinstating my former committee
help deal with this situation and other similar topics.

So I elaborated on the pros and cons. The failing of both VA and the
Gulf War Illness Task force. That we need something back at VA to
deal with the healthcare / benefits questions out there. As right now
its a black hole with only the RAC to discuss anything and its charter
does not allow for that - only research.

VA knows the GAO report fell flat with the VSO's and myself. Ive spoken
out against the report as vague and missing the point. Better training
wont make 3.317 work better as its a flawed law designed to fail. Then
again, I also said that back in 2008 and it kept doing just that.

I wanted to be there in person to question this. But, I had surgery on a
pair of tumors back on October 20th and travel isnt permitted the
first 30 days following. The 2 inch Liposomal tumor was on my
instep and was too painful to walk on long. Run the risk of a moving clot
if I made the trip.

Also been busy trying to pitch a study of the before / after blood samples
of Gulf war vets. Full sequence the HIV serum samples of those that
deployed just before the war, and full sequence a current sample to compare
genome sequence for alterations after the war. The HIV serum samples
are stored at the DODSR facility which they have collected since 1985.
By comparing the samples, we could look for gene alterations that are
not common in the general population.

The rest is being discussed on my mail list which has been picking up
speed recently. DSBR has seen its 20th anniversary, and the mail list
its 17th. Hard to believe this all kicked off for me in 1997, and all the
things that happened in that period. Still around, and still at it.



Examining VA's Processing of Gulf War Illness Claims
July 13th 2017 hearing to GAO report GAO-17-511


This was a frustrating hearing for me. It had a small build up
in the news the week before, and even the day it was happening
no one could get a straight answer on where, when and how.
The website said it was rescheduled, and the staffers didnt put
out information about it till the hearing had been under way 5 minutes.
The information was wrong and I I finally back doored it on youtube
on a different channel. So you can tell they wanted this to fail.

The stunning part for me was the GAO had either been mislead
outright or simply didnt care facts where missing. Noticeably that
in 2009 a VA gulf war healthcare and benefits committee had
addressed the failings of CFR 3.317 in its final report. That at that
time the rejection rate was 75% on CFR 3.317. I know, because
I helped create that information for my committee. I contacted the
GAO over it to find them trite and indifferent about this fact.

Why is it important? Because the recommendations are flawed and
let VA off the hook. That they should train there staff better to use
this antiquated law verbatim, and better outreach. Instead of saying
what I had been saying for 8 years that the title of this law defeats it.
If you use the UDX and MCI phrase, its designed to fail the ICD 9
codification simply by being a diagnosed condition even if wrong.

Then in the veterans defense they put a former research committee
member on the stand to talk about this that had nothing to do with
it from then to this year. Was not part of the RAC's agenda, or part
of its charter to address it. But, it was the ACGWV's which everyone
has tried to bury and suppress these last 8 years including the RAC.

My committee made recommendations in 2009 that VA ignored,
hid our report and website from the public. Nothing went forward or
changed or changed. Now its 2017 and CFR 3.317 failure rate
exceeds 90% or more around the country. VA got what it wanted,
ignored the report and got worse on all of it. With nothing in place
to oversight that fact. Not the RAC's job.

Is anyone suggesting a VA federal committee be reinstated to deal
with gulf war health and benefits, NO. All we have is the RAC in place
to deal with research, and no other options - venues - or communication
channels with VA on ANYTHING else. The crowd that follows that is
all to happy to keep things status quo to promote themselves even
if it destroys any last opportunities to make real progress here. The
very people who help create this black hole all these years.

For 3 years Ive tried to deal with PL 105-368, and get it amended to
make it current. Now others are screwing that up with personal agendas
and jeopardizing that outcome. I know, for 8 months Ive been coaching
others who are now trying to break ranks to promote themselves as
brilliant - and making the same dam mistakes they make every year.

You cant make progress if you dont have objective people in the crowd
to go forward, and once again opportunist are taking possible victories
and making them fail for the wrong reasons. Which is so clear in the
media of late.

Well, Im not a moron and have been on point for years now. Sooner or
later others conduct and methods should become more transparent.
I got my testimony on the record with the subcommittees and a paper
trail of events up to now to show others what really happened. The rest
right now hinges on how much common sense is left in the DC arena
to follow fact, method, and outcome to logical solutions.

But, as long as CFR 3.317 starts with UDX / MCI, it will continue to fail
as it is and VA wants that. Get a couple more years of denials and keep
a 100,000+ veterans off the books. To save a dollar. Ive been on point with
this for more than 8 years now, and sooner or later the obvious will surface
once others are done trying to alter reality to suit there fantasies.


March 15th, 2017

Outright criminal intent, EO 13526 as of


November 4th, 2010, and the espionage act of 1917.

Its pretty clear now America has lost control of its core value
system and digressed into a really dark place these days.

There is a reason to keep public records public when it comes
to our government, to make sure elected officials comply with
the letter of intent to be in office. When corruption arises, record
of this is meant to correct it - not prolong it.

As of November 4th 2010 a Executive Order was signed that extended
technicalities of government record to exceed the 25 year mark.
Now they can go from 50 years to 75 years because of human
intelligence operatives, weapons of mass destruction, and needing
special permission. Only, this now is a blanket designed to also
cover up our long term bungling of issues in the middle east.

On top of it elected officials hide behind the Espionage act of 1917
so they can silence whistle blowers the last 7 years. Effectively
silencing those that want to come forward over corruption in DC.

NARA has taken advantage of this to limit the reading room and
you can no longer reach a real person or the director by phone.
So FOIA's are now get cryptic responses designed to confuse
people even more how to get special permission for release of
information in unique cases.

Effectively, all Gulf War Records that should have been released
by Feb 2017 are now reclassified till the year 2042. Long after all
those that committed any government crimes have passed on.
Putting current public officials outside the hands of the DOJ in our
life times and thwarting any pursuit of them via DOJ. Worse, also
making sure no one can pursue them either.

Changes to Executive Order 13526 in November 2010 were not
designed to protect national security. It was a blatant attempt to
thwart the general public from knowing wrong doings in our system.
The abuse of the Espionage Act of 1917 is now a smoke screen
to throw at any would be actions to investigate, and keep people
from asking questions about our government. To silence the masses,
which they have done. The Gulf War is absolute proof of this. If it went
so well, why is 99% of it classified to the year 2042. Does that sound
like it went smooth, and by the book? Millions of records either buried
for 50 years or mostly destroyed by now.

With no public outcry, this opened the doors to darker things to
come. Wherein opportunist in public office see a chance to use
the same technicalities in other arenas. This will expand and grow
like a cancer since people choose to ignore it.

My hands are tied, and I cant get anything done on any of this. Im
a product of 25 year old policy actions that crippled my life and made
a limited amount of others rich and comfortable at my and others
expense. They are above the law, and the Orwellian aspects of this
are most unpleasant to live with now. If you served in the Gulf War,
in essence - shut up, hurry up and die.

Bring in the new year?

Some of us could not except that 2016 was the final
answer on GW issues. Cold silence wasnt it. The missed
chance of amending PL 105-368 and PL 105-277 was not
going to end with the now past anniversary. This 20 year old law
should have been revamped years ago, and the HVAC did
not make it happened as promised.

Now a new effort is under way to take our cue from the
Senate Appropriations report last year. In 114-237 it was
decided 38 CFR 3.317 did not serve the veterans needs
and quoted a conservative 80% still not getting connected
with this law.

While all this was going on I lost my 3rd molar. The tooth
broke and I had no resources to deal with it. I reached out
to the veteran communication council here in Waco to find
them silent. Called Waco and Temple VAMC's, only to get
a cold "we cant help you" responses.

VA still stands by its bad dental laws wherein if your less
than 100% they can refuse to help you. Means the ER
will turn you away.

Its happened on a Friday, and by Tuesday I finally made
it into a dental clinic to be seen. Only to find myself facing
thousands in dental work. It would be Thursday before the
tooth would be extracted. Nearly a week.

A handful of folks in the GW crowd came to my aid under the
guise of GoFundme. From that we got enough to get the
extraction done. With a little towards 2 other procedures.

The alarming thing for me is this is disease related, and in no
way will it be tracked or reported by VA. Ive lost 3 molars
in the last few years and bone degeneration which is leading
to more loses. How many thousands are like me right now
that VA is not tracking due to a technicality. Like similar dental
losses beyond that of the general public. Another possible
disease trend ignored by flaws in the system.

Pretty much all the Gulf War laws on the books do not serve
the current situation or our plights. Much of it has been perverted
into something else. Hand written internal executive VA memos
circumvent progress. Deployment health has taken every opportunity
to diffuse the issues by white washing deployments by name and
lump everyone into one big pool. As they did with the IOM study of
ALS in the military, when it was first contracted as ALS in the Gulf
War veterans and the title changed.

Congress is in flux, and this maybe a hard year to get any laws
passed. Will take diligence and persistence to keep up with it all
and make it happen. All the while the legacy government personnel
out there work to thwart this and keep the agenda back in 1995.

I for one would also like to see the dental care added to Gulf War
benefits for the near 100,000 or more non-service connected GW
vets that probably have similar issues. Because they should not
have to foot the bill like this to save a buck at there expense. Its
already been so degrading for them not getting any help these last
26 years. When do we stop punishing these vets for serving in this
region and ignoring our medical care year after year.





December 18th, 2016

Play down the 1991 Gulf War anniversary, and
bury the past

What a disappointing year this was. As the last of the GWI advocates
were driven from Washington DC, overall the effort was to go silent
about the war 25 years ago. What little was done in the media was
strictly pro Bush supporters talking about what as success it was.

Really? A ongoing 25 year occupation, the disastrous 2003 invasion
and betrayal of those troops that kept being sent back tour after
tour. The whole new era of veterans living with that legacy. Only to
have ISIS rise up and ruin all that work. With a 2 trillion dollar
price tag hanging over America for it all.

So many betrayals over this. The deliberate efforts to indefinitely
classify the 6 million records from 25 years ago. So that all those
that committed war crimes die of old age before any of this surfaces.
Your poor, your screwed if you went. Your rich, you had a economic
finger to cash in and run - with a total break down of the judicial
aspects of war time policy. Complete abuse of what is classified and
what should not be.

The largest demolition since WWII happened right between the 3rd
and 1st AD. A explosion 10 times the size of Khamasiyah that burned
mulitcolored smoke for 2 days. I know, I saw it, told OSAGWI, and
OSAGWI never investigated it. All because there was no video evidence
that surfaced. It was buried with evidence from 44,000 other events.
OSAGWI report file -
( courtesy Steve Robinson, former OSAGWI employee )

The report is also incorrect because my unit location information was
also wrong. My CRUR data shows us more inwards towards Kuwait
and not even tracking those that went further north. The point is I could
see surface details around it from the edge of the mesa, and you cant
see that 35 kilometers away. This was less than 3 miles for sure.

The original 697,000 that deployed do not even have safe guards in
place to publicly track disease trends and cancers. Then as one
begin so surface the Whitehouse coldly rejects service connecting
brain tumors. Making it clear the price tags isnt worth it? Really?

How cold and unfeeling all this is for folks like myself. No one
wants to talk about this war and certainly not help those of us
that live in a kind unfair isolation as if we did something wrong.
A all volunteer army that did our jobs, left Saddam in place which
none of us liked, and came back home to be forgotten.

Keep in mind people, if your going to betray your military like
this - they may not want to serve in the next war. Kind of hard to
get people to volunteer to be betrayed. That anything that happens
to them will be covered up, and they are shunned after that. This
is not what the founding fathers wanted of any standing army in
the 1700's. The very things Jefferson warned against.

Its been a horrible year health wise for me. Im trying to deal with
my own issues. No one is asking me any question or tracking
my issues. The congestive heart failure is getting bad as is the
GI and other problems. Normal things dont help. Getting so
I cant even go near tap water with filtration on it. Limited to
distilled water. Ugh. Im trying to get better, but my body keeps
changing what works on me and what makes it worse. Im running
out if ideas and certainly options.

Unless Trump is going to clean up the military records system in
2017 there isnt much hope for GW vets. Those records show what
happened to us and have been suppressed for so long now. Its
a long shot this cabinet would defy a less than proud tradition of
selling out the military, but Trump isnt a veteran and in the past
non-Military Presidents didnt ruffle those feathers.

The house committees that opposed VA and DOD have been gutted
with the elections. The dissenting voices driven out. Leaving VA to
be even more braisen and abusive. No fear of legislation to force
them to do right or amend PL 105-368 that VA totally abused.
Spending unchecked and hidden in red tape. All the while coddling
a bizarre hatred for Gulf War vets, and legacy personnel carrying old
grudges keeping 1995 ideas alive.

What did veterans like myself ever do to deserve all this? Why is it
justice is so out of pace with the law of averages? How can the
military function long term if its going to keep pouring millions of
angry veterans back onto the streets to be stepped on? Serving
4, 5, 6 tours to these horrible regions. Your a severely damaged
person by then after years and years of being surrounded by hateful
people trying to drive you out or kill you every day. Who comes
back normal from years of something that is not.

Our military should not be treated in this fashion, and a volunteer
army deserves real respect for what it does - not the pail lip service
we get and the mock interest. This whole chapter of American history
is a shame, embarrassment, and insult to those that died doing there
jobs so it can be neglected this way.

If Donald Trump wants to be a great President, let him change this
farce and undo the sad legacy of the last 25 years under the the past
presidents who completely screwed up the middle east.


May 2nd, 2016
RAC meeting in April, groveling at VA's feet

The proposed intent was to shake up the Gulf War Research
advisory committee, and give them fresh perspective. Instead
its quite clear VA pushed the committee to play up the defunct
IOM, WRIISC, and that terrible doctor Stephen Hunt. All for the
purpose of continuing the tired, bitter, lack luster campaign of
somatic illness.

Better ideas? More like insulting steps backwards to 1995.
How completely unoriginal, and a true fraud of tax payer dollars
to take such horrendous steps like these. The RAC was subverted
strictly with the intent of getting rid of all people who did not agree
with VA's criminal mishandling of GWI issues all these years.
The RAC should be relabled IOM 2, and out to contract the IOM
to do even worse studies than in the past. Peer Review means
little when the studies are designed to fail or not look for original
ideas. The bias of VA contracts, and the IOM not wanting to
offend its meal ticket makes this such a bad idea. Plenty of already
useless IOM reports that show this.

During public comments I spoke some of my piece, and was
dismayed at how quickly things fell apart to include protocols.
WRIISC had to chime in to defend itself, and burn up veteran
comment time. Chairman lost control of the meeting, and the
audience had to declare "point of order" as the RAC burned the
clock on public comments. I was offended by all this, and the
unprofessional manner this all played out.


New RAC meeting, running off the old

September 29th the RAC had its first meeting with its new staff, and

gave up on the last of the old members it could get rid of. The meeting

centered around the WRIISC, and how it was trying to take a new

direction with its efforts.

What really came through was the WRIISC was business as usual.

A one time visit program designed to fail like it has the last 13 years.

Its charter and function a complete bastardization of PL 105-368 for

which it was created in 1998. Keeping in mind VA stalled its formation

till 2002.

The DC, Palo Alto, and New Jersey clinics were quite prideful even

though they have no successful research or treatment program. There

new shining example the "polyphenol study", grape juice. You would

have to drink a 1,000 gallons a day to get enough to benefit you.

Bioflavanoids are great, except you cant get enough of them in nature.

The study is designed to fail so VA can keep saying "We dont know".

What did they turn there noses up at? A negative dietary impact

study to warn veterans of food items that might not benefit them

or worse. The TBHQ in Ramen which throws me for a loop. Tertiary

butylhydroquinone is only safe at .02% in foods, and its known that

higher than that has significant side effects. Why not help vets avoid

things that would make them worse.

Why turn there noses at this? Because going up against these food

items would incur the wrath of the FDA, USDA, and lobbyist who

claim its safe and approved. Doesnt matter its wrong, they dont want

to loose there jobs trying to even say so. Just easier to let vets suffer

and die than explore this option. Its about the money, not about doing

what is right. Proof once more the WRIISC is not on our side.

In steps Dr. Stephen Hunt, Dr. Somatoform from PDICI days and the

former Deployment Health clinic at WRAMC to push his very old

agenda. Something VA has clung to replace Dr. Brown, and

Dr. Engle who touted and supported the same ideas. What is going

to take to get rid of these government legacy personnel carrying

excess baggage and axes to grind against Gulf War vets.

The meeting now free of many of the old valves to keep it in check

showed clear evidence of internal VA influence, and steering the

committee into darker waters. IOM had been cut out, so they

needed a similar IOM over tone which comes from the WRIISC

and the PDICI. Bad or pointless research.

DOD has no plan to cope with Leishmaniasis

already in the blood supply

Here it is November, 5 months later and DOD has no response to

my letter about Leishmaniasis in the blood supply. That is because

they dont want others knowing they have no plan or desire to even

admit this has already happened. Liability, non military law suits

that might be retro active to 2004.

DOD like always has no concern for disease vectors that come

home from foreign deployments. Much like MDR Acinetobacter

Baumannii, West Nile Virus, MDR Hepatitis C, and now the strains

of foreign Leishmaniasis that have been let into the blood supply

through military blood donations.

Not reacting is a admittance of guilt because if it was not a issue they

would just say so, and spell it out over at WRAMC. Except, they

are so afraid of this that they dont want to say anything at all.

Not until either the CDC suddenly becomes honest, or enough

of these people rally to fight back.

Dont count on the media in this. They wont raise a finger until one

of them contracts this through blood donations or a wealthy person

does. This is a orphan disease that has no real supporters.

Its a vile shame things like this happen that dont need to. That

and the administrations that know of it and remain quiet.

Letter of Dissent to the ACGWV final report and how

VA covered it up in 2009.
On the day of the committee final report I opposed the PDICI part

of the report. It was clear to me that this program would be used to

promote the somatoform diagnosis condemning Gulf War vets

needlessly. This was met with bitter retaliation by the committee

members loyal to the chairman. I stood my ground. Was promised

the letter would be posted on the VA website. It was not.

In the report it barely acknowledges this fact as ( one member

dissented ) and went on with no explanation. After that the Gulf War

Illness Task Force loosely remarked about our committee and after

that any links to this committee disappeared. Its certainly not on

the main VA Gulf War webpage though the Research Advisory

Committee is.

So for 7 years VA secretly supported the PDICI and black balled me

so that I would have no say in Gulf War issues at all. Has Puget

Sound in Seattle Washington made land marks strides in Gulf War

medical research, nope. Yet, they just presented to the New RAC

meeting like they are the future of this program.
The Verification of the letter to DOD - Contamination

of blood supply

Had sent the letter to DOD "read receipt request" and they ignored

it. Congress did not. So I called to verify they had it. They did and

sent it up the chain at FHA / FHP. When I asked why they didnt

do the "RCR" they stated they dont do that. I asked they include

the subcommittee in the response and they said NO. Really? I didnt

know they had this kind of job security. What contempt.

Now comes notifying other sources so that all involved understand

the situation and what it represents. 12 years of working this and Im

tired of waiting for anyone to do whats right about this situation. Its

up to me to fix this somehow even though Im broke and no financial

means or donations. Like that ever stopped me the last 18 years.

The letter to DOD - Contamination of blood supply

through OIF, OEF troop blood donations with

Leishmaniasis

I fired the email off to DOD today and CC'd Congress on it about

the Leishmaniasis issue. Sure DOD will try to pretend they didnt

get it and spend lots of time trying to make me contact non-essential

people with this to slow it down.

Next is going to my Congressman and explain it to him.

By the way, its the 15th anniversary of the mail list. Gosh, so much

has happened and much of it hard to believe. Going to make a great

book in a little while. Like that Ive been published in Science magazine,

Wall Street Journal, Wired, IOM reports, Stars and Stripes, dozens of

local news papers, NPR, assorted TV programs, and then all that international

press in 2003. Weird seeing myself on German TV, Chinese TV, and so

many different languages. Gosh, I was so scared when I spoke to the

Presidential Special Over Sight Board. Taking on OSAGWI. That giant

FOIA campaign to get all those records released. All those meetings at

the Pentagon and then other public events. But, by the time I spoke to Bob

Dole on the task force it was old hat. Then getting that VA advisory committee

and getting on it was such a mind blower. Man it was a ride.

But its a pretty sorry chapter in American history right now and its

getting harder each year to do even the little stuff. 1999 turned out to

be a fairly good year compared to how miserable 2015 is. The 25th

anniversary of the Gulf War is a silent affair America does now want

to discuss. How nice for those of us that went. So tired of being

trivialized by people who never did anything with there lives.
The short RAC meeting June 23rd
Called in to the RAC meeting throughout the day. It had its pluses

and minuses. It was nice to hear Dr. James Baraniuk present and

his kind references to others work. Then Dr Stephen Hunt spoke and

brought back all the bad memories of VA and its somatoform program

the PDICI in Seattle. The very thing I dissented on the final report of

my committee knowing full well it was not going to help Gulf War vets.

What did VA do, they made Dr. Hunt part of the inner circle with the

Gulf War Illness Task Force and drove away all dissenters just like

they did with Dr. Charles Engle of the Deployment Health Clinic in

2000. Was that over good science, not even. Nobody remembers

Engle as a hero of the cause and neither is Dr Hunt.

I submitted a statement for the record and went to great lengths to

make sure it was acknowledged before the end of the day. In it I point

out several issues and ideas. From dietary trials, to the verification of

a sterile cure of Leishmanaisis in Gulf War era veterans to protect the

blood supply, to fact that DOD is still trying to keep 99% of the records

to the Gulf War top secret at the 25th anniversary of the war. The need

to sequence the genomes of the blood samples at UT Southwestern to

compare for genetic anomalies from the war that arent in the general

population.

My campaign to call out DOD on the contamination of the blood by

Leishmaniasis is picking up speed now. The attempt to silence me

last week has only pissed me off, and made sure I wont stop till the

whole nation knows about this disease in detail and why its here. How

the Pentagon betrayed the public trust and does not want culpability.

( Note: check term message history to see the full letter. )

Airborne Hazards and Open Burn Pit Registry

Tried my luck registering with the Burn Pit registry having waited

long enough for VA to work out the bugs. Tried the DS login and

got that damn unwanted DOD warning screen. This is no accident,

its meant to frighten off soldiers and veterans talking of being under

surveillance. They want the registry to fail, and I know I dont want

to go through a DOD portal that puts me on the NSA monitor list.

Have sent a email to VA executive branch stating the problem. So

full well expect them to do what they usually do and ignore this.
Oil Well Fire Registry
Same thing with this, warning disclaimer designed to frighten

off veterans who dont want to endure the NSA back dooring

them. Designed to fail by technicality.




Another RAC meeting the 23rd of June

The Research Advisory Committee on Gulf War Veterans'

Illnesses will meet on June 23, 2015, in Washington, DC.

The meeting will be held in Room 230, 810 Vermont Avenue

NW., Washington, DC, from 9:00 a.m. until 5:30 p.m. All

sessions will be open to the public. Interested persons who

cannot attend the meeting may use this toll-free telephone

number (800) 767- 1750; access code 56978# to listen to

the meeting.

The Advisory Committee on Gulf War Veterans

Former Secretary of VA James Peake handing me my committee appointment certificate

VA has set out to remove all evidence from its website that the

Advisory Committee on Gulf War Veterans ever existed. All

that is left is the archival page, but has no referrers to it from

the VA Gulf War webpage or any other location. So the meetings,

content, presentations, and such are completely ignored all these

years. Like the CDC presentation on Leishmaniasis by Barbara

Herwadlt, of which on page 35 its eluded that they can never be

sure the disease is truly resolved.ACGWV CDC 2009 presentation

2006 Sep;46(9):1641-5.

Leishmania: risk to the blood supply.
Cardo LJ1.
Author information
1Walter Reed Army Institute of Research, Silver Spring,
Maryland 20910, USA.Lisa.Cardo@us.army.mil

Operation Iraqi Freedom and Operation Enduring Freedom
present a much greater Leishmania threat than did Operation
Desert Storm. Because most transmission by transfusion
occurs in endemic areas, and visceral infection is asymptomatic
in healthy individuals such as blood donors, it is difficult to
determine the absolute risk of transmission by transfusion, but
review of the literature provides many clues as to the appropriate
measures to be taken for blood donor deferral.

DOD and VA have done everything to bury the hard work of

people like myself. This most recent attempt on my committee

was one of several efforts to dismiss real issues. To simply not

deal with them. The committee should be reinstated since its work

was never recognized or acted on, but preferably with new members

who are not ringers for VA that gladly went silent. The healthcare

and benefits issues have never even really been addressed that we

raised, much less resolved.

The new Research Advisory Committee meeting

Had been concerned what the new chairman would be like once

he sat at the table. Sure enough, a meek person towing the line

hoping VA will take him serious. The meeting on the 20th was

about a sleepy as they come.

VA never took the RAC serious since 2002 or acted on any

of its recommendations. It was dragged into countless hearings

defying congressional inquiries into the very topic. The members

all but openly accused VA of fraud. In return VA gutted the committee

in favor of a more docile IOM style committee they could more

easily manage and ignore. Unless the committee made a recommendation

to study substance abuse which VA would leap on.

The new chairman will certainly learn what frustration is as he

begins to see he was suckered into this job. Passive is just another

name for forgotten in the annals of history. Just what VA wants of

him, take the show into muddy waters and languish there obscurely.
Army Denies it Sought to Hide Troops' Chemical Exposure in Iraq
In October 2014 The New York Times published a lengthy series
based on documents acquired through Freedom of Information Act
requests and interviews with Iraq War veterans, including 17 who were
exposed to chemical agents. The Times said that about 5,000 chemical
warheads, shells or aviation bombs were found by U.S. troops following
the 2003 invasion.

I was so irritated with this article because it just scratches the surface
of all those FOIA's out there that asks so much more about Iraq. Yet, now
that OEF and OIF are over DOD wants to pretend even this didnt happen. We
need the media to dig deeper into the massive fraud that is the whole 1990
to present 2 trillion dollar fiasco in this region. So much is being concealed
from nuclear, chemical, and biological events as well as experimentation
on troops. The items left out in the open sand from 1990 that waited for
us to trip over them in 2003. The cover up of the EOD personnel who had

to deal with these aging relics that often fell apart or blew out on them.

Not to mention the on going burn pit saga of those down wind of them.

How can we be so blatantly ignorant of the waste and fraud committed in
the mishandling of this region by our government the last 25 years. From
the cover up of what happened then to the missions in between ( Desert Fox )

to the out right invasion and occupation in 2003. Only to loose it to another
radical group in 2015. We need to come clean on the whole mess and stop
living the political lie that more than 5 million veterans live with today.

Now we have things like Leishmaniasis loose in the blood supply as

thousands of soldiers donate blood that shouldnt. Ones with dormant

L Major, L Tropica, L Dondonavi, and so on. This can hardly be found

even when your looking for it without a PCR DNA test which they are

not screening for. How long will this go on before people come forward

asking why they have it and how they got it. Only to find the FDA wants

to wait out the carriers hoping it wont infect too many people before it

resolves in one generation. They can wait 40 years for it to pass.

The carefully orchestrated VA plan to drive the vets

and there advocates away before the 25th anniversary

of the Gulf War

You had to be there to see it, and even then so it was stunning that

it was ignored by all as it happened. In 2008 the Advisory Committee

for Gulf War Illness published its report and disbanded. It was the only

one of its kind to address benefits and healthcare. Then VA carefully

removed all evidence of it from the VA Gulf War web page.

They got rid of the Gulf War GWVIS stats report. Said they would write

Pre and Post 911 reports reports to continue that reporting. They did

not. In effect, removing all forms of statistical tracking data from the

public. No way to gauge any health impacts if no one has data to

compare for it. They then focused on the Research Advisory Committee

which they set out to gut on a technicality.

The RAC tried to fill many shoes, and venture out of its comfort zone

by commenting on as much as they could about VA's GWI short

comings. VA took this poorly and decided that rather than act on

even one single suggestion from the RAC, it was easier to remove

the people complaining. They did, and by September 2014 it resigned

Jim Binns and other key staff from the RAC.

Congressional HVAC committee tried to get involved. But, could not

rally support from Congress to support legislation meant to realign

all this. They failed to act, and the final decision became that of

Bernie Sanders in the Senate who killed this. Who put a dollar figure

on GW vet lives and let us all down.

Then VA turned to the IOM and let them know there would be no

more IOM studies of Gulf War Illness. Which kind of eludes there

with the RAC gutted this lets VA off the hook to counter any RAC

reports with bad IOM science. Rather ominous.

All the while DOD has decided that even though the Gulf War

approaches the 25 year mark this month, they will not be releasing

any of the records from the war. 25 years is the time frame for the

release of "Top Secret" records to the public. But, no request has

been made to the National Archives and other repositories to

release these records. A violation of record keeping law in DC,

and still no one speaks up about this.

You would think there would be some outrage in the veteran circles,

and the veteran service organizations. Who are not even commenting

on the anniversary of the war much less how much time has lapsed.

The lack of medical record reporting, disease trends, death rates, or

anything related to GW veterans of any kind. Much less the Burn Pit

Registry data they collected from us this last year. Nothing.

All of this has gone horribly wrong, and VA seems quite content to

sit back and let this languish without purpose or direction. That

they sure seem to want this defused state to say all is well and

let obscurity dispel rumors of medical issue needing addressed.

No one is welcome at the VA table, and we have no spokes persons

left in DC that can even approach the Secretaries office much else

get a response back. Its a totally closed door system now. I know,

I try all the time.

Im not some obscure rambling lunatic here folks. I served on a VA

federal advisory committee for Gulf War veterans decrying the very

things that would come to pass. No stranger to Congress, GAO,

IOM, RAC, PSOB, OSAGWI, and so many others that came and

went over the last 18 years in Washington DC.

http://www.dod.mil/pubs/foi/administration_and_Management/FOIA_Logs/ http://veterans.house.gov/hearings/hearing.aspx?NewsID=538 http://veterans.house.gov/hearing/gulf-war-what-kind-of-care-are-veterans-receiving-20-years-later

http://www.publichealth.va.gov/exposures/gulfwar/ http://www.publichealth.va.gov/exposures/gulfwar/reports/gwvi-taskforce.asp

http://www.va.gov/gulfwaradvisorycommittee/docs/AdvisoryCommitteeonGulfWarVeteransFinalReport-September2009.pdf

The question stands is, will any of you out there speak up about any

of this in such a way that Congress would take notice. Because right

now the House Veteran Affairs Committees are the only opportunity

to alter this destiny if a few folks would rally to a few common goals.

Provided its done in a public fashion others can witness.

Sincerely

Kirt P. Love

Disabled Gulf War Veteran

Former member: VA Advisory Committee on Gulf War Veterans

Contact: Kirt Love

P.O. Box 414,

Crawford, Tx 76638




Note: We continue here at DSBR to ask questions, and ask
that you join our discussion group at GulfLINK Mail List.

---

The Desert Storm Battle Registry

P.O. Box 414

Crawford, TX 76638